Coats of Arms and Crests from Stoke-on-Trent
The Borough of Burslem arms

index page of arms & crests




previous: examples of Tunstall arms
next: examples of Burslem arms
The Borough of Burslem
Burslem was created a borough in 1871 and in 1878 was granted a Charter of Incorporation and the right to display arms.
All the six towns had and displayed arms but only Burslem (as the 'Mother' town) received a grant.
Coats of arms are only granted by Letters Patent from the senior heralds, the Kings of Arms.
A right to arms can only be established by the registration in the official records of the College of Arms

---
Burslems' motto:
"Ready"
Description of the Burslem Arms:
The arms granted on the 8th October 1878 were based on those of the Burslem Board of Health.
The crest is a garb (sheaf of grain) and a fleur-de-lys, between two branches of laurel.
The shield was divided into four gold and red quarters with two vertical and two horizontal stripes interlaced and counterchanged.
In the first and fourth quarters a Portland Vase; in the second, a scythe; and in the third a silver fret.

The Portland vase represents local industry and the towns association with Josiah Wedgwood.

The scythe is from the arms of the Sneyd family. The Scythe also appears in the Tunstall arms.


The silver fretty cross "a fret couped argent" in the third quarter is from the Audley arms.

It is said that the red fleur-de-lys which surmounts the shield was the crest of Thomas Hulme, Burslem's first Mayor.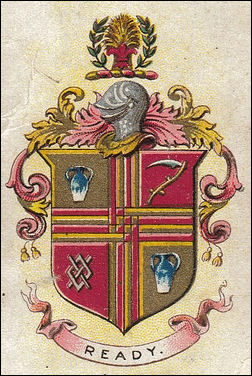 Contribution to the City Arms:
In 1912 arms were granted to the new county borough of Stoke-on-Trent. It was made up of devices previously used in the arms of the constituent six towns.
The scythe from the Burslem and Tunstall arms were used in the city arms. Burslem also contributed the Portland vase.




previous: examples of Tunstall arms
next: examples of Burslem arms
---
---

index page of arms & crests