Coats of Arms and Crests from Stoke-on-Trent
The Town of Fenton arms

index page of arms & crests




previous: examples of Stoke arms
next: examples of Fenton arms
The town of Fenton
Fenton used the following device as its arms although it never received a grant to use them - of the six towns only Burslem (as the 'Mother' town) had official authority to use arms.
The Fenton arms were adopted about 1840.
---
Fentons' Motto:
"Onward and Upward"
Description of the Fenton Arms:
The crest is in the form of a goat, part of the arms of William Baker, the Chief Bailiff of Fenton in 1840 and a prominent pottery manufacturer in Fenton.
The shield is divided into four quarters, separated by a fretty cross.
The pottery industry is represented by the vase in the top left and the bottle kilns in the top right.
The coal industry is represented by the pit head wheel in the bottom left.
In the bottom right quarter a sheaf of corn in front of a plough.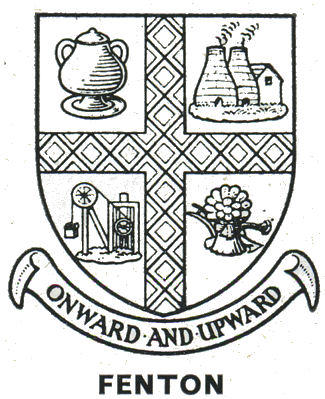 Fenton town arms

Contribution to the City Arms:
In 1912 arms were granted to the new county borough of Stoke-on-Trent. It was made up of devices previously used in the arms of the constituent six towns.
The 'fretty cross' was contributed to the city arms.




previous: examples of Stoke arms
next: examples of Fenton arms
---
---

index page of arms & crests