The Borough of Stoke
Stoke was created a borough in 1874
Stoke used the following device as its arms although it never received a grant to use them - of the six towns only Burslem (as the 'Mother' town) had official authority to use arms.
On January 1st 1874 the townships of Penkhull and Boothen were incorporated into the the Borough of Stoke-upon-Trent. Alderman W. Keary was elected first Mayor.
---
Stoke's motto:
"E terris dare Artem" - "To produce beauty from the earth"
Description of the Stoke Arms:
Note: Shown here are the arms of the borough town of Stoke
- for the arms of the City of Stoke-on-Trent see here.
The shield incorporates sections of the armorial bearings of the following families:
Copeland,
Minton,
Campbell,
Keary.
The shield, divided in the centre contains the potters oven from which flames issue (reminiscent of the early salt glaze methods which required considerable flame).
The oven is set between three pottery jugs and above is an illustration of an early potter's wheel.
On the right hand side are three coats of arms:

Keary

Three roses on a black band are from the Keary arms (the first Mayor of Stoke).

Minton

Two ermine bars with three 'garbs' (sheaves of wheat) and two tigers for Thomas Minton.

Copeland
Two red bars on a golden back cloth at the top of which are three green trefoils - over a band with three boars' heads.

from the arms of R. P. Copeland.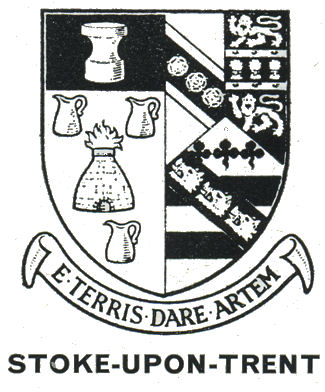 The helm on the Stoke-upon-Trent County Borough Arms is a Boars Head (see example below) this was from the Crest of the arms of Colin Minton Campbell, then the MP for North Staffordshire.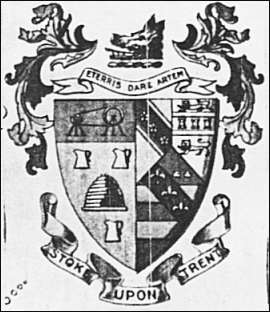 Stoke County Borough Arms


Seal of the Corporation of Stoke upon Trent - 1872
[before Stoke became a borough in 1874]

Contribution to the City Arms:
In 1912 arms were granted to the new county borough of Stoke-on-Trent. It was made up of devices previously used in the arms of the constituent six towns.
The boars head from the Copeland family was incorporated in the city arms.




previous: examples of Hanley arms
next: examples of Stoke arms