Bridle Path, Dresden, Longton
Cobden Street
Cobden Street was named after prominent MP Richard Cobden (1804-1865), founder of the Anti-Corn Law League.

Date: 1900 - 1940 (c.)
the bridle path is on the right, just behind the group of 3 people on the pavement - it can be identified by the gap in the houses.
This photograph shows the newly built Cobden Street in Dresden when the town of Longton was still prospering and expanding its suburbs.
Beyond the trees at the top of the street and out of view is Florence Colliery, an industrial scene that this image belies. Notice the small frontages and bay windows on the left closest to the photographer. This would have classified this part of the street as 'white collar', whilst the other houses without bay windows would have been for those further down the social scale. Note also the small off-licence and chapel, both very important features in an Edwardian middle class area.
The church building on the right was the Methodist New Connexion Chapel. The Elim Chapel on the corner of Cobden Street and Carlisle Street now stands on this site.



from the Blake Collection (Staffordshire Past Tracks)
the photographer Blake lived in Cobden Street

---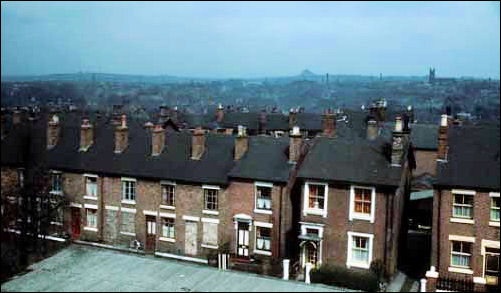 Cobden Street - photo taken from a large house Ricardo Street
The bridle path can be clearly seen.
Date: 1971

---
Cobden, Richard

(1804-1865), British economist and statesman, known as the Apostle of Free Trade.

Cobden was born in Sussex on June 3, 1804. At the age of 15 he went to work in London for his uncle, a calico merchant, and in 1828 he established an independent calico business with some friends. His philosophy of free trade was first apparent in two pamphlets he wrote, England, Ireland, and America (1835) and Russia (1836).

In 1838 he joined with the British statesman

John Bright and five other merchants to found the Anti-Corn Law League. As part of a campaign to decrease the cost of living, the league agitated for repeal of the corn laws. Cobden successfully stood for election to Parliament in 1841 to work for repeal of the corn duties, which was effected in 1846.
---

The line of the bridle path as it crosses Cobden Street.
by the 1970's many of the terrace houses in Cobden Street were demolished and replaces with new buildings.