| | |
| --- | --- |
| Blyth Porcelain Co Ltd | |
Location and period of operation:
| | | | |
| --- | --- | --- | --- |
| Blyth Porcelain Co | Longton | c.1903 | 1939 |
Porcelain manufacturer at the Blyth Works, Longton, Stoke-on-Trent, England.
Around 1903 the Dresden Porcelain Co. was renamed Blyth Porcelain Co. The business continued to be owned by the Forester family.

The business was incorporated as a Limited company in 1904 and was run by H. Victor Forester, the youngest son of Thomas Forester.

In June 1938 a resolution was passed that the company be voluntary would up and it closed in 1939.

The Blyth works were taken over by A. T. Finney.
Previously: Dresden Porcelain Co.
Subsequently: A. T. Finney
---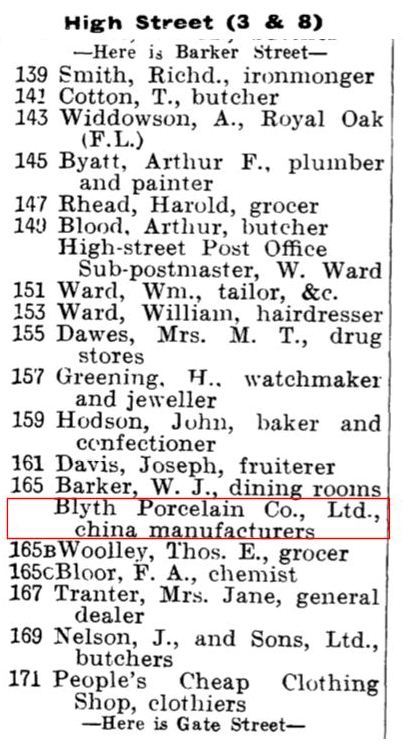 Longton
High Street
Blyth Porcelain Co., Ltd.,
china manufacturers
from..... 1907 Staffordshire Sentinel
'Business Reference Guide to The Potteries, Newcastle & District'
---


China
Greatest Variety in Shapes and Decorations at most Reasonable Prices
The Blyth Porcelain Co., Ltd., High St., Longton

Pottery Gazette and Glass Trade Review
January 1906
---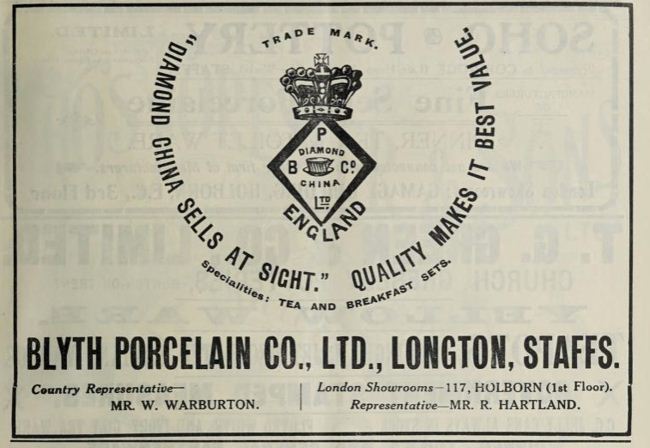 "Diamond China Sells at Sight"
"Quality Makes it Best Value"
Specialities: Tea and Breakfast Sets
Blyth Porcelain Co., Ltd., Longton

The Pottery Gazette
January 1913
---
The London Gazette
5th July 1938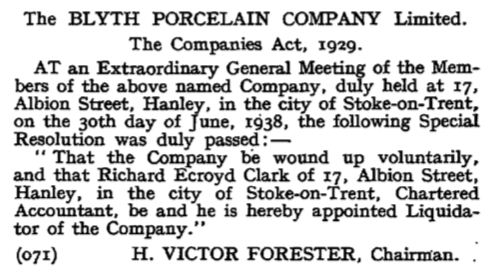 notice of the voluntary winding up of Blyth Porcelain Company Limited
---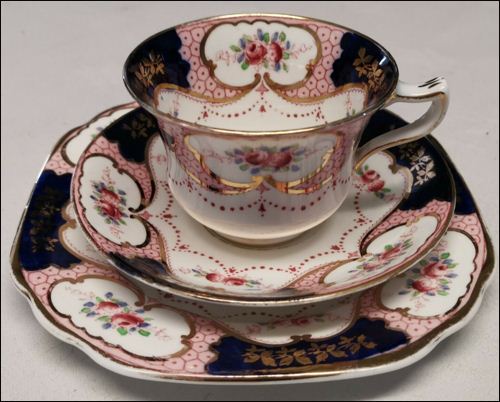 teas sets in the Eurpoean Imari style
Wikipedia article on Imari ware
---

tea set with gilt edging

Diamond China
England

c. 1925+
---

china trio with gilt

B P Co Ltd
Diamond China
Made in England

This style of mark
introduced c.1905

the registration number shows that this pattern was registered in 1930
---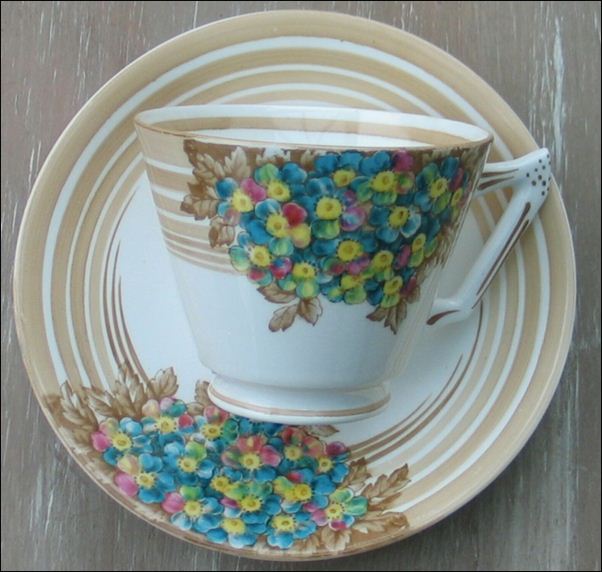 cup and saucer - probably 1930s
---

Initials and marks used on ware for identification:
NOTE: There was also a company called Diamond Pottery Co.

The Blyth Porcelain Co., and their predecessors, Dresden Porcelain Co., used a diamond mark and used the trade name 'Diamond China'. This causes some confusion with the Diamond Pottery.

However Diamond Pottery Co. made earthenware and were based in the town of Hanley (they also didn't seem to used a diamond shape mark).

Whereas Blyth Porcelain Co. and Dresden Porcelain Co. produced china ware and were based in the town of Longton.
B P CO Ltd
Diamond China
the diamond shaped mark and wording were used as a trade name

---

B P Co Ltd
Diamond China
England

c. 1905+


B P Co Ltd
Diamond China
Made in England

marks with "Made in England" date from the mid 1920s onwards


Diamond China
B P Co Ltd
England

c. 1913+

(mark without the
teacup in the middle)
the previous company, Dresden Porcelain Co., also used a similar diamond mark
---

Diamond China
England

Diamond China
England
c. 1925+
---

The Newtown Works, High Street, Longton
(around 1903 renamed the Blyth Works)
- click for more information on the works -
---
Questions, comments, contributions? email: Steve Birks
---