Location and period of operation:
| | | | |
| --- | --- | --- | --- |
| Arkinstall and Son (Ltd) | Stoke | 1904 | 1924 |
China manufacturers - particularly arms ware - at the Trent Bridge Pottery (subsequently Arcadian Works) at Stoke, Stoke-on-Trent, England.
The business was set up around 1903/4 (perhaps 1900) by Harold Taylor Robinson as his first independent pottery enterprise. Arkinstall appears to have been his maternal grandmother's maiden name.

Based in Wharf Street, Stoke the company were originally recorded as decorators of Arms Ware (1907 Business Reference Guide) and the manager was listed as A. A. Robinson.

The company used the trade name Arcadian.

In 1908-10 Harold Taylor Robinson gained a controlling interest in the nearby Robinson & Leadbeater which he merged Arkinstall with.

1922 Arkinstall were a Listed Exhibitor - British Industries Fair. Manufacturers of Arcadian Coat of Arms China (useful and ornamental) View China and all kinds of souvenir ware.

J A Robinson & Sons Ltd became the main holding company for other pottery businesses HTR had bought or controlled.

The Arkinstall business appears to have continued as a unit of Cauldon Potteries Ltd until 1939.
---
Related trade marks and associations with Arkinstall:
Arcadian – trademark used originally by Arkinstall & Son Ltd, a Stoke firm. Later, as a branch of J A Robinson & Sons, then Cauldon Limited and Coalport China Company Limited (John Rose & Company Limited). Arcadian were the largest manufacturers of British Crested China for many years.

Swan – trademark used by Charles Ford. Firm started as T & C Ford in 1854, became Thomas Ford in by 1871, and then Charles Ford in 1874. Production of Crested China started around the beginning of the 20th Century, shortly before Harold Taylor Robinson gained control. He merged it with Robinson & Beresford in 1907, and it became a branch of J A Robinson & Sons Limited in 1910, and production was moved to the Arcadian works. The Swan mark appears to have disappeared after 1925 but before this identical pieces were produced but bearing either the Swan or Arcadian marks.

Willow – trademark used by Hewitt & Leadbetter, Willow Potteries. A partnership formed in 1905 between Edwin Leadbetter (the son of a partner in Robinson and Leadbetter – famed for their production of busts ie. 3D sculptures of the heads of famous people) and his brother-in-law, Arthur Hewitt. Edwin left in 1919 and Arthur's brother joined and the firm became Hewitt Bros. By 1925 Harold Taylor Robinson had bought control and created a new company, Willow Potteries Ltd. This soon became part of his Cauldon group. Willow designs were produced at the Arcadian works, and by 1930 the Willow name was dropped.
---
China and Earthenware Decorators
Arkinstall & Son (Arms Ware)

from..... 1907 Staffordshire Sentinel
'Business Reference Guide to The Potteries, Newcastle & District'

---

---


typical Arcadian crested ware by Arkinstall and Son

Crested china collecting became a craze in Victorian and Edwardian times when day trippers bought small porcelain ornaments decorated with the coat of arms of the locality to take home as a souvenir.

---
Marks & initials used on ware for identification:
A & S
ARCADIAN
ARCADIAN CHINA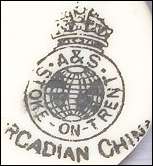 ---
Questions, comments, contributions: email: Steve Birks
---