| | |
| --- | --- |
| Dunn, Bennett & Co | |
Location and period of operation:
| | | | |
| --- | --- | --- | --- |
| Dunn, Bennett & Co | Burslem | 1876 (78?) | 1983 |
Manufacturer of earthenware and ironstone at a number of sites, originally in Hanley and then (from 1886) in Burslem, Stoke-on-Trent.
Established in 1876 by William Dunn and his son-in-law William Wood-Bennett.

Dunn Bennett manufactured earthenware and Ironstone for both the home and American markets.

c.1908 Incorporated as a limited company.

1914 directory listing for Dunn Bennett - "Manufacturers of hotel china. Specialities: patent unchippable surface plates and dishes chiefly adapted for use in hotels, cafés, hydros, clubs and on board ship; tea and coffee pots, vegetable dishes, meat dishes and factors of glass tumblers, decanters, wine glasses etc. Employees 500."

Became part of the Royal Doulton Group in 1968 joining Doulton Fine China Ltd (both producing hotel and catering ware).

In 1992 Royal Doulton Tableware sold its vitrified hotel ware businesses (Dunn-Bennett and Steelite) to a management buy out.

The last occupied works (Dalehall Works) of Dunn Bennett became the site of the new Steellite hotel ware manufacturing and warehousing site.
---
Works occupied by Dunn Bennett:-
Boothen Works, Brook Street, Hanley: 1878-87

The Hill Works, Burslem: 1886 -

Royal Victoria Works, Liverpool Road, Burslem: 1887 -

The Dalehall Works, Burslem: c.1937-1998
---

Dunn, Bennett & Co.
Boothen Works, Brook Street, Hanley
The Pottery Gazette, American and Canadian Edition, January 1st 1880
---
Initials used on ware for identification:
D. B. & CO.
D. B. & CO. LTD
[LTD from 1907 onward]
---
click the following for more information >>>>
| | | | |
| --- | --- | --- | --- |
| The Hill Works - occupied by Dunn Bennett from 1886 | The Dalehall Works - occupied by Dunn Bennett from 1937 | Dunn Bennett ware | Dunn Bennett marks & dates |
---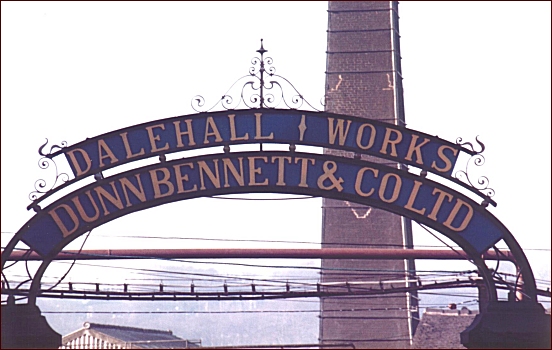 The Dalehall Works of Dunn Bennett & Co
---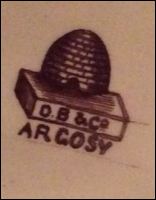 early marks incorporated a Bee Hive
(oftern used to indicate industry)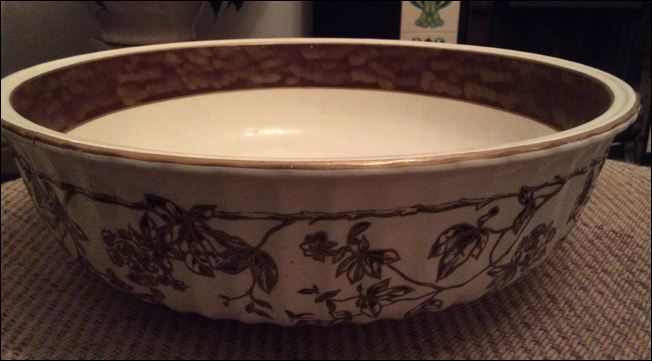 Dunn, Bennett & Co - wash bowl & jung in the ARGOSY pattern
photo: Alan Williams
---

Ironstone catering ware supplied for the Irrawaddy Flotilla Company, Burma
c.1876-1907
photo courtesy: Bob Hudson (jug found in junk shop in Mandalay)
---

canteen plate produced for the
Union Steam Ship Company of New Zealand Limited


the 7:46 is the month/year of manufacturer
i.e. July 1946
photos courtesy: Anne Ratcliffe
---
Questions, comments, contributions? email: Steve Birks
---