| | |
| --- | --- |
| Ford & Sons (Crownford) Ltd. | |
Location and period of operation:
Ford & Sons

(Crownford) Ltd

Burslem

1938

June 1964
Earthenware manufacturer at the Lower Manufactory, Newcastle Street, Burslem, Stoke-on-Trent, England
Thomas Ford and his sons Thomas Isaac and Sampson Hancock Ford had been in business as 'Ford & Sons'

In 1938 the business was purchased by Oswald Shufflebottom. He renamed the business Ford & Sons (Crownford) Ltd.

In 1941, under the Wartime Concentration Scheme, manufacturing was moved to the nearby Royal Overhouse Pottery of Gater, Hall & Co. Both companies continued to trade during the war times.

After the Concentration Scheme finished Ford & Sons (Crownford) Ltd returned to their works in Newcastle Street.

In June 1964 it was resolved that the company could not meet its liabilities and arrangements were put in place for the business to be wound-up. At this time the Chairman was D. Shufflebottom.

In the 1960 Pottery Gazette Reference Book the company officers were listed as: Managing Director - James Webster, Sakes Director - J. W. Webster, Works Manager - F. P. J. Cupit.
previously: Ford & Sons

---
The London Gazette
3rd July 1964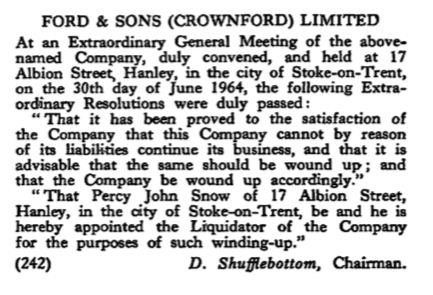 notice that the business to be wound-up
---

Small (6 inches high) vase - marked Crown Ford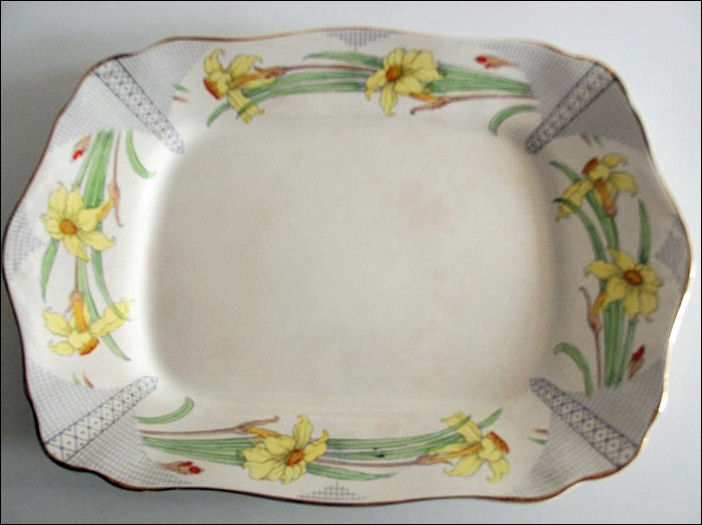 "JONQUIL"
Crownford
BURSLEM ENGLAND
14 inches x 10 inches (36 cm x 25 cm)

---
Marks used on ware for identification:
CROWNFORD

CrownFord
Made in England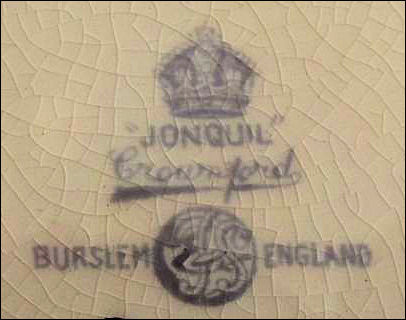 Crownford
FS
Burslem England
" JONQUIL" is the pattern name

Typical Ford & Sons (Crownford) mark: 1938-64

the FS logo was also previously used by Ford & Sons
---

Ford & Sons - Lower Manufactory - 1929
- click for more -
---
Questions, comments, contributions? email: Steve Birks
---