Henry Benjamin Shirley


SHIRLEY, Henry Benjamin (1858-1910),
potter's miller, Hanley.

Henry Benjamin Shirley, son of Jesse Shirley, was born at Etruria on 24 June1858.

He was educated at Northwood Academy, Hanley, and at Malvern. With his brother Jesse he was in business as a potter's miller and manufacturer of agricultural manures by 1880. The mill still stands at the junction of the Trent and Mersey and Caldon canals and is a listed building.

Henry Benjamin Shirley was elected to Hanley council in 1893 and served as mayor in 1902-3. He was a Wesleyan Methodist, a Conservative in politics and president of Hartshill Cricket Club.

In Etruria park there is a fountain donated in 1904 by Henry and Jesse Shirley.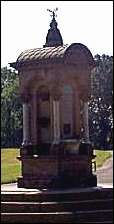 He married Gertrude Patti Beresford, of Belper, Derbyshire, in April 1894 and had two children. He died at the Ashlands, Hartshill, on 17 January 1910 and was buried in Hartshill cemetery.
SOURCES: County Biographies 1901; Dir. 1880; Hanley Borough Year Book 1902; Huntbach; C. Penn, Staffordshire at the Opening of the 20th Century; People of the Potteries.