Bernard Moore
(photo from "People of the Potteries")

Bernard Moore b.1850 d.1935
Joined his father in the business in 1865 (Samuel Moore & Son) and took over the works in 1867 on his father's death.
He was joined by his younger brother Samuel Vincent Moore and in 1873 they were trading as Moore Bros (1873-1905).
In September 1905 the moulds, designs of Moore Bros. were sold and the St. Mary's works were sold to Wild & Co.
Bernard took premises at Wolfe Street, Stoke and specialised in glaze effects.

"The brilliant blue glazes of the aesthetic period gave way to colours of greater intensity in the 20th century: yellows, se blues, scarlets and crimsons. The copper-red glazes produced in China by reduction firing had long excited interest, and many experiments were made in order to reproduce them.
Bernard Moore's flambé and sang-de-boeuf towards the end of the 19th century were the first complete answer.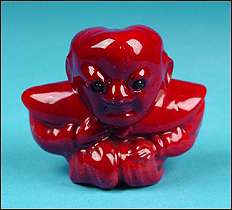 'Diakokan' by Bernard Moore
The first English artist who had
success with the Flambe glaze.
Circa 1910. Height: 2 inches, (50mm).
Sold in 2004 for £1,000 ($1,800)
"In the Potteries to-day is one potter who has done something to redeem Staffordshire from the charge of indifference and decadence - Bernard Moore - a potter in the truest sense of the word. He is master of all the resources of the potter's craft, and his work alone shows Staffordshire still capable of coping with the potters of France. It is technically triumphant, and it is quite delightful (though in a sense disappointing) to find in his show-room a case of pottery - perfect in colour and artistic feeling - which he will not sell, but prefers to retain for mere pride in its accom­plishment.
Although Mr. Moore, in some of his pieces, has introduced decoration which somewhat detracts from their inherent beauty (in obedience to certain phases of popular taste), there is nothing banal, and nothing out of place. But his finer pieces - mostly made for museums and public collections -are fit to rank with those of the Orientals.
In potters like Mr. Moore there is hope."
From 'Staffordshire Pots & Potters',
G. Woolliscroft Rhead & Frederick Alfred Rhead,
First published 1906.
1850
Born 13 January 1850, the eldest son of Samuel Moore of the pottery company Hamilton & Moore.
1852
His younger brother Samuel Vincent Moore was born.
B.M. grew up at The Cottage, Normacot and was schooled at St. Mary's Convent School, Chesterfield.
1865
After leaving school, Bernard Moore joined his father, who by now was trading as sole owner in the pottery works "Samuel Moore"
1867
His father, Samuel Moore, died and Bernard took over the firm.
1870
His younger brother Samuel Vincent Moore joined Bernard in the firm.
1873
They were trading as Moore Bros (1873-1905)
1881
At the time of the 1881 census Bernard More was unmarried and living at Normacot Road with his brother Samuel Vincent.
The census records that the china manufactory (which would be Moore Bros.) employed 150 people.
1902-3
B.M. was appointed president of the British Ceramic Society.
1905
Moore Bros. ceased trading and the St. Mary's works were sold to T. C. Wild.
Bernard moved to premises in Wolfe Street (which is now Kingsway) in the town of Stoke.
1906
His son Bernard Joseph Moore joined him as a consultant in the firm.
1910
A fire at the Brussels exhibition of this year destroyed many examples of Moore's work.
1935
B.M. died on 3 April 1935 at his home "The Grange", Draycott-in-the-Moores. He was buried in Cresswell cemetery.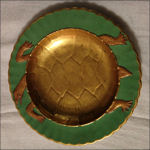 Index for the
Moore family
of potters