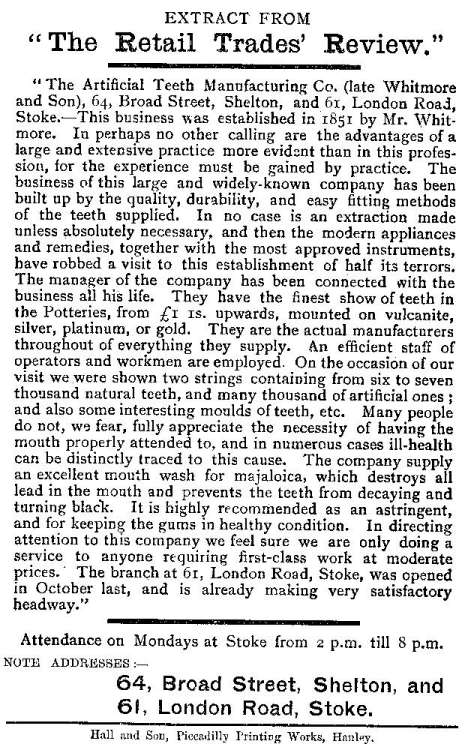 EXTRACT FROM
"The Retail Trades' Review."
"The Artificial Teeth Manufacturing Co. (late Whitmore and Son), 64, Broad Street, Shelton, and 61, London Road, Stoke.—This business was established in 1851 by Mr. Whitmore. In perhaps no other calling are the advantages of a large and extensive practice more evident than in this profession, for the experience must be gained by practice. The business of this large and widely-known company has been built up by the quality, durability, and easy fitting methods of tbe teeth supplied. In no case is an extraction made unless absolutely necessary, and then the modern appliances and remedies, together with the most approved instruments, have robbed a visit to this establishment of half its terrors.
The manager of the company has been connected with the business all his life. They have the finest show of teeth in the Potteries, from £1 1s. upwards, mounted on vulcanite, silver, platinum, or gold. They are the actual manufacturers throughout of everything they supply. An efficient staff of operators and workmen are employed.
On the occasion of our visit we were shown two strings containing from six to seven thousand natural teeth, and many thousand of artificial ones ; and also some interesting moulds of teeth, etc. Many people do not, we fear, fully appreciate the necessity of having the mouth properly attended to. and in numerous cases ill-health can be distinctly traced to this cause.
The company supply an excellent mouth wash for majaloica, which destroys all lead in the mouth and prevents the teeth from decaying and turning black. It is highly recommended as an astringent, and for keeping the gums in healthy condition.
In directing attention to this company we feel sure we are only doing a service to anyone requiring first-class work at moderate prices. The branch at 61, London Road, Stoke, was opened in October last, and is already making very satisfactory headway."
Attendance on Mondays at Stoke from 2 p.m. till 8 p.m
NOTE ADDRESSES:—
64, Broad Street, Shelton, and
61, London Road, Stoke.

Hall and Son, Piccadilly Printing Works, Hanley.