F Winkle & Co

(Ltd)







Location and period of operation:
F Winkle & Co (Ltd)

Stoke

/ Fenton

1890

1931
Earthenware manufacturer at the Colonial Pottery, Whieldon Road, Stoke, Stoke-on-Trent, England
A business between Winkle and Wood started in 1885 at the Pearl Pottery in Hanley.

In 1888 Winkle and Wood jointly opened the purpose built Colonial Pottery Works in Whieldon Road on the border of Stoke and Fenton.

In 1890 F. Winkle continued on his own at the Colonial Pottery and Wood continued at the Pearl Pottery works, Hanley.

In the early 1900's the business was owned by the Hewitt brothers - William and Joseph; (who were later also the owners of Barker Bros in Longton). The business continued under the name F Winkle & Co Ltd.

c.1911 the company became 'Ltd'.

In 1931 the business was taken over by Ridgways (Bedford Works) Ltd. who took the earthenware manufacture in-house.

The Colonial Pottery Works was taken by a new company - Whieldon Sanitary Potteries Ltd - who in turn became (around 1949) a subsidiary pf Doulton & Co.

The works were demolished c.2000.
---
Initials and names used on ware for identification:
F W & Co
ENGLAND
F WINKLE & CO
WHIELDON WARE

Winkle used the trade name 'Whieldon Ware'
after the name of a famous 18th Century
potter Thomas Whieldon who lived and worked
in this area.
The road that Winkle's Colonial Pottery was
situated on is called Whieldon Road
---

19th century brown transfer ware ironstone vase in the Aesthetic Movement pattern "Versaille"


early mark F W & Co
without the place of origin:- "ENGLAND"

VERSAILLE is the pattern name
photos courtesy: Oak Leaf Antiques.
---

transferware jug in an aesthetic style pattern

F W & Co

the registration number 27608 shows that the pattern was originally registered in 1885, so the pattern was first designed by Winkle & Wood
c.1890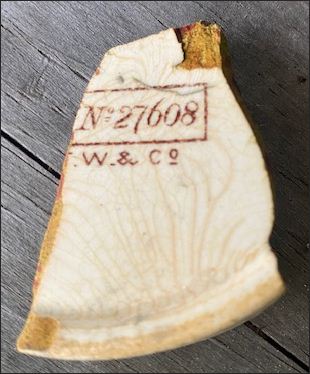 fragment bearing the F. Winkle & Co mark found
on the beach at North Haven Island, Maine, USA
photo courtesy: Kaitlyn Kirby
---
follow these links for more information:-
Winkle and Wood's factory was situated alongside the Trent and Mersey canal
In the foreground is Whieldon Road.
---

1893 trade journal article on Winkle
---
Related pages..

Winkle & Wood's Colonial Pottery
---
Mount Pleasant! The very name evokes Englishness with a tinge of Norman chivalry sufficient to enchant the imagination back to baronial times, castle-keeps and sheriffs, pastoral landscapes, parish lore, and village peace.
---
Grove Road, Heron Cross, Great Fenton - Early potters walked the track from Lower Lane to Lane Delph:
It is not at all fanciful to speculate that a number of famous and early potters journeyed along the track which is today known as Whieldon Road, Grove Road and Duke Street.
---
Thomas Whieldon 1719-1795 a Master Potter who influenced and taught the famous potters Ralph & Aaron Wood and Josiah Spode. He was in partnership with Josiah Wedgwood.
---
Questions, comments, contributions? email: Steve Birks
---