Furnivals (Ltd)

Furnivals Ltd (1913 Ltd)







Location and period of operation:
Furnivals (Ltd)

Furnivals Ltd (1913 Ltd)

Cobridge

1890

1913

1913

1968
Earthenware manufacturer at Elder Road, Cobridge, Stoke-on-Trent, England
Formerly Thomas Furnival & Sons - Thomas Furnival senior retired in 1890 and the business was continued by his sons Thomas, Samuel and Arthur. The style of the business became Furnivals.

Thomas Furnival Senior died on 25th April 1895. He left all of his property, including the business, to his daughter, Sarah.

The younger brother, Samuel Bourne Furnival took on the role of Managing Director.

'LTD' added to the marks c.1895

By the time of the 1901 census Thomas Junior, is listed as being a Retired Earthenware Manufacturer at the early age of 55.

Following financial difficulty in February 1913 the business was wound up. It was then acquired by the Bailey family - brothers Charles and John and their sons (who already owned The Burslem Pottery Company Co.). The name was changed to Furnivals (1913) Ltd.

In 1967 the business was purchased by Barratts of Staffordshire. The business continued under the Furnival name.

The take over was short lived and in December 1978 the company was closed when, it is said, that a shortage of skilled workers frustrated development plans for the factory.

Rights to the Furnival name and patterns was purchased by Enoch Wedwood (Tunstall) Ltd. They continued to produce ware with the Furnival backstamp into the 1970s.
Formerly: Thomas Furnival & Sons
---


notice of the registration of Furnivals (1913) Ltd

The Pottery Gazette 1st April 1913

---


The Guardian Newspaper
23 November 1968


Furnivals (1913) pottery, Cobridge,
Stoke-on-Trent is to close a week
before Christmas

---


sauce boat in the Denmark pattern

blue and white transferware was a popular pattern range for Furnivals
---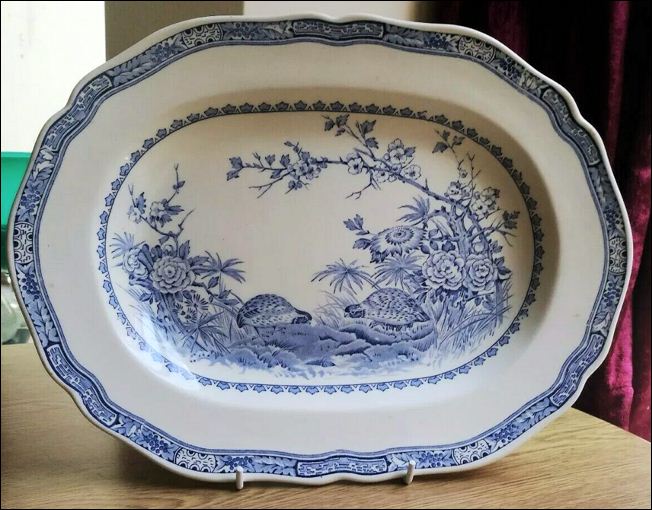 platter in the Quail pattern
---
Marks used on ware for identification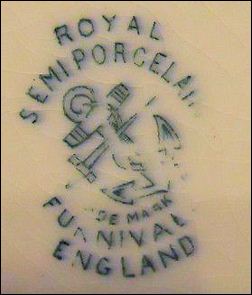 Royal
Semi Porcelain
Furnivals
England
1890 -1910
---

Furnivals, Ltd
Cobridge
England


c.1895-1913

---


Furnivals Ltd
England

c.1905-13

Denmark is the pattern name


---


Furnivals Ltd
England

c.1910-13

---

Furnivals
1913 Ltd
England


1913+

---


Furnivals
(1913)
England

1913+

---


Furnivals 1913
Made in England

1913+

Quail is the pattern name

---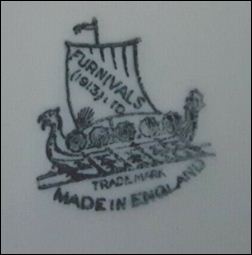 Furnivals (1913) Ltd
Made in England
1913+
---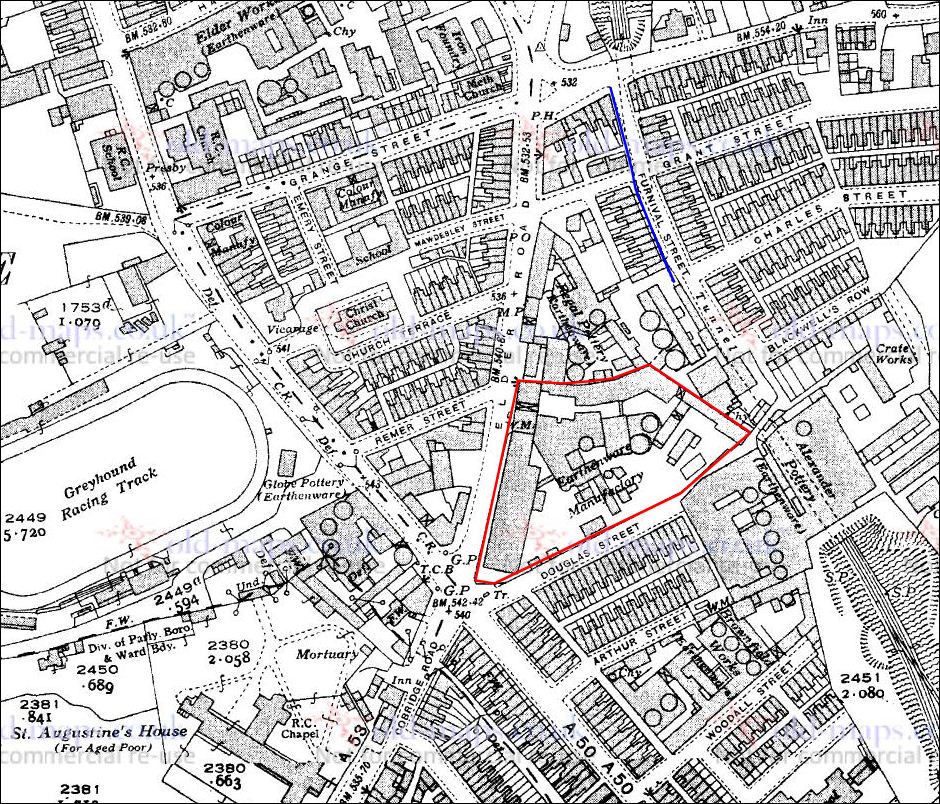 1937 map showing the location of the Furnivals works
There were a significant number of pottery works in this area of Cobridge
---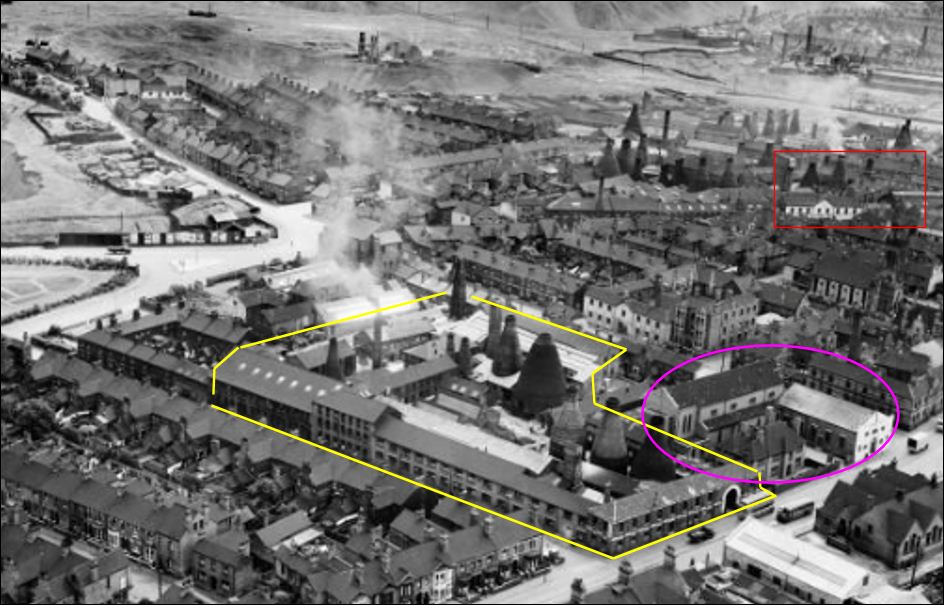 1947 photograph showing the Furnivals works (red square)
Waterloo Road, which leads to Burslem is at the bottom right
The Elder Works is shown in Yellow and the purple oval is the Roman Catholic Church
these can be seen on the map above
In the background can be seen a mark hole and brick and tile kilns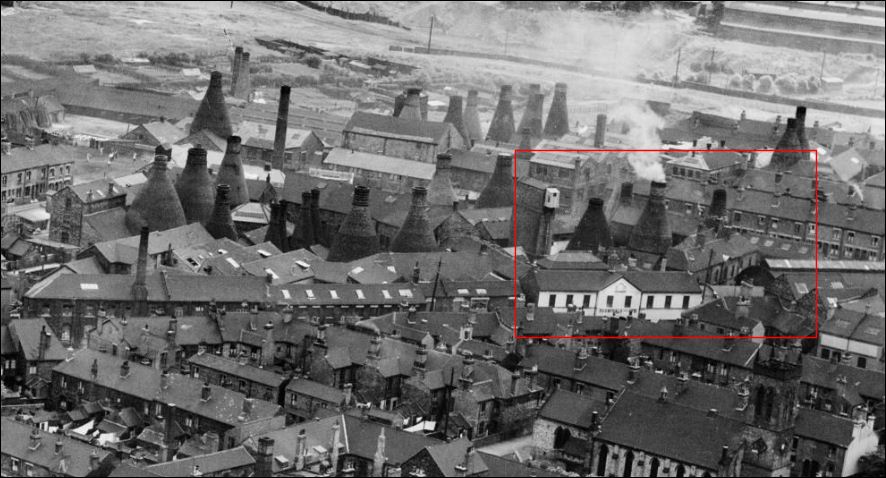 photographs courtesy: Britain from above

1960s photo of the frontage of the Furnivals works
---
Questions, comments, contributions? email: Steve Birks
---