Samuel Moore d.1870
Partner in the firm of Hamilton and Moore (c.1840-1859)
In 1859 became the sole proprietor and carried on as Samuel Moore (& Son) (1859-1870), & Son was from 1865

Bernard Moore b.1850 d.1935
Joined his father in the business in 1865 (Samuel Moore & Son) and took over the works in 1867 on his father's death.
He was joined by his younger brother Samuel Vincent Moore and in 1873 they were trading as Moore Bros (1873-1905).
In September 1905 the moulds, designs of Moore Bros. were sold and the St. Mary's works were sold to Wild & Co.
Bernard took premises at Wolfe Street, Stoke and specialised in glaze effects.

Samuel Vincent Moore b.1852
Younger son of Samuel Moore. In partnership with his older brother Bernard from 1873-1905. After the dissolution of the partnership Samuel V. Moore appears to have taken no further part in the business of potting.

Bernard Joseph Moore
Bernard Moore's son who joined him in 1906 at the Wolfe Street works.
---
1881 census:
Dwelling: Normacot Road
Census Place: Trentham, Staffordshire, England
| | | | | |
| --- | --- | --- | --- | --- |
| Name | Marr | Age | Sex | | Birthplace | Occupation |
| Samuel V. MOORE | M 29 M | Head | Longton | China Manufacturer |
| Alice C. MOORE | M 28 F | Wife | London, Middlesex | |
| Alice Ethel MOORE | 5 F | Daur | Stone, Stafford | Scholar |
| Reginald J. MOORE | 3 M | Son | Normacot | Scholar |
| Bernard S. MOORE | 2 M | Son | Normacot | |
| Margaret M. MOORE | 11 m F | Daur | Normacot | |
| Bernard MOORE | U 31 M | Brother | Normacot | China Manufacturer Employing 150 Workpeople |
| Mary GALLOWAY | U 20 F | Serv | Stone | General Servant |
| Sarah COLLIER | U 25 F | Serv | Cheadle, Stafford | Nurse |
---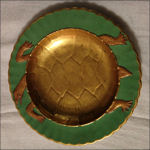 Index page for Moore
family of potters
---