Location and period of operation:
| | | | |
| --- | --- | --- | --- |
| Pinder Bourne & Co | Burslem | Jan 1862 | 1882 |
Earthenware manufacturer at Nile Street Works, Burslem, Stoke-on-Trent
The Partners were Thomas Shadford Pinder and Joseph Harvey Bourne.

Thomas Pinder had previously operated from the Swan Bank Works from 1848 and the Fountain Place Works from c.1852 - in 1851 he was joined by two partners and they operated as Pinder, Bourne and Hope (Thomas Pinder, Joseph Harvey Bourne, John Hope).

In 1860 they moved to the already existing Nile Street Works.

In 1862 Mr. Hope left the partnership and stayed at the Fountain Place Works - the Nile street works continued as Pinder, Bourne & Co.

At some time Joseph Bourne left the business.

The '& Co' were John Harris and Ernest Joban Berg.

In 1877 notice for liquidation by arrangement was made by Thomas Shadford Pinder, John Harris and Ernest Joban Berg co-partners of Pinder, Bourne & Co.

In 1877 Henry Doulton, of the Lambeth (London) pottery company Doulton & Co., was approached by Pinder, proposing he become a partner in the firm of Pinder, Bourne and Co for an outlay of £12,000 but the money was unwisely spent and differences of opinion caused such a rift between the two concerns that only arbitration could resolve the matter.

Pinder retired and and Henry Doulton continued with the business.

Also in 1877 Henry Doulton was knighted, a few years later he was awarded the Albert Medal by the Royal Society of Arts.

The name of Pinder, Bourne & Co. continued to be used until 1882 when it became Doulton & Co. Ltd.
Previously: Pinder, Bourne and Hope
Subsequently: Doulton & Co
---
Rudyard Kipling's father - Lockwood Kipling pursued a career as artist and craftsman. He was taken on as an apprentice by Pinder, Bourne & Co., the earthenware manufacturers of Burslem in Staffordshire, while concurrently studying (and winning prizes) at Stoke and Fenton School of Art. After two years working in London and elsewhere for an architectural sculptor, he joined the Department of Science and Art at South Kensington. It was during his four years with the Department that, going to and fro between London and the Potteries, he met Frederic Macdonald and became engaged to Alice. Rudyard Kipling was born to Alice and Lockwood in India.
In 1863 Lockwood Kipling and Robert Edgar were awarded joint first prize in the competition for the design of the facade and elevation of the Wedgwood Memorial Institute in Burslem

Rudyard Kipling was named after a lake and beauty spot near Stoke-on-Trent called Rudyard Lake

---
London Gazette, January 14, 1862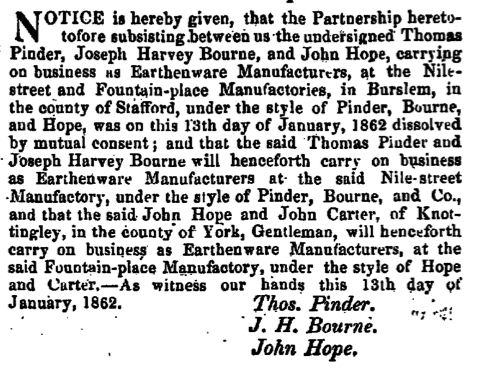 notice of the dissolution of the partnership of Pinder, Bourne and Hope on the 13th January 1862
Thomas Pinder and Joseph Harvey Bourne continued at the Nile Street Works as Pinder, Bourne & Co
John Hope was joined in partnership with John Carter and they continued at the Fountain Place Works as Hope & Carter
---

London Gazette, September 1877

notice for liquidation by arrangement by
Thomas Shadford Pinder, John Harris and
Ernest Joban Berg
co-partners of Pinder, Bourne & Co

---

Pinder, Bourne & Co
Burslem

The Pottery Gazette, American and Canadian Edition, January 1st 1880


---




A Pinder, Bourne & Co design 'Marina'
registerd on the 8th September 1969

the design is kept in the National Archives

---


white ironstone jug

photos courtesy: Lyn Cossor

---





moulded flow blue style jug

---

polychrome plate in the Beauvais pattern

brown transferware meat platter
in the Beauvais pattern

P.B. & Co
the registration diamond shows
that the pattern was registered on
6 April 1868
---


jug with holly decoration
impressed marks 79-3 on the base show
the date of manufacture as March 1879

---


Brown transferware plate in the Aesthetic style

the registration diamond shows that the pattern was registered on 4 August 1880
the impressed 11-80 is the date of manufacture - November 1880

---


purple transferware plate in the Cable pattern


cup & saucer in the Cable pattern - polychrome with giding

---


plates with a series of different bird patterns

these have the registration mark for 4th April 1871

---
Marks and initials used on ware for identification:
P. B. & Co
PINDER BOURNE
& CO
NOTE: on some ware there is an impressed date
giving the month and year (or year-month) of manufacture.
e.g. 6.80 for June 1880
---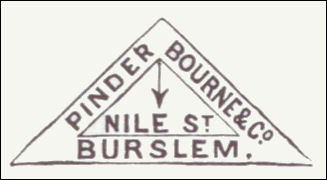 Pinder Bourne & Co
Nile St.
Burslem
'Nile Street' was the location of the works
'Burslem' is the town
this mark is recorded in Godden 'Encyclopaedia of British and Porcelain Marks'
however it is rarely found in practice
---

Pinder Bourne & Co
Burslem, Staffordshire

Stone China
Pinder Bourne & Co
Burslem
marks incorporating the Royal Arms
- generally found on white ironstone ware
---


Pinder Bourne & Co
---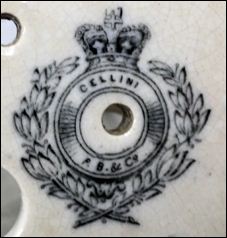 P. B. & Co
often including the pattern name
this style of mark was continued from the predecessor
Pinder Bourne & Hope
---

Pinder
Bourne
& Co

the numbers 79-3 give the date of manufacture
1879 March


Pinder
Bourne
& Co

the registration diamond shows that the pattern was registered on 4 August 1880
the impressed 11-80 is the date of manufacture - November 1880

Pinder
Bourne & Co
Burslem
---
- click for more information -
---
Questions, comments, contributions? email: Steve Birks
---